PrimaluceLab 7mm T2 extension
T2 extension rings have different use:
can be screwed to optical accessories (such as field flatteners or focal reducers) to bring the camera sensor at the right distance from the lens (to optimize performance)
can be used to separate the mechanical accessories that, when used together, can touch and then not work properly (eg an off-axis guider could touch a filter wheel and it could prevent its rotation searching for a guide star)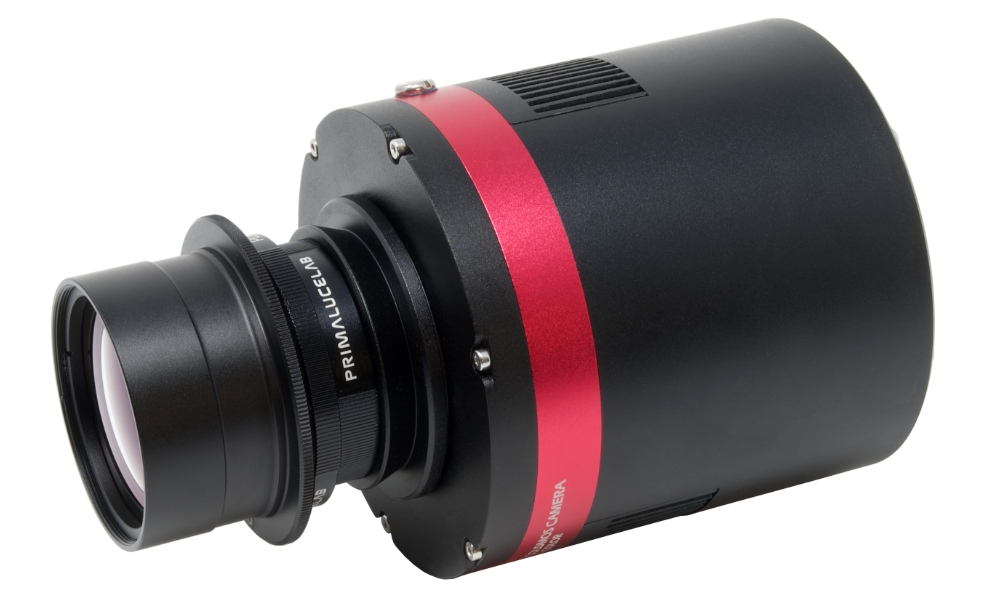 T2 extension installed (together with the M48 female to T2 male adapter) between camera and corrector in order to correctly set backfocus.
7mm T2 extension: specifications
– Thickness: 7mm
– Material: aluminum
– Black anodizing
– T2 male and female thread on sides
– External knurling to improve grip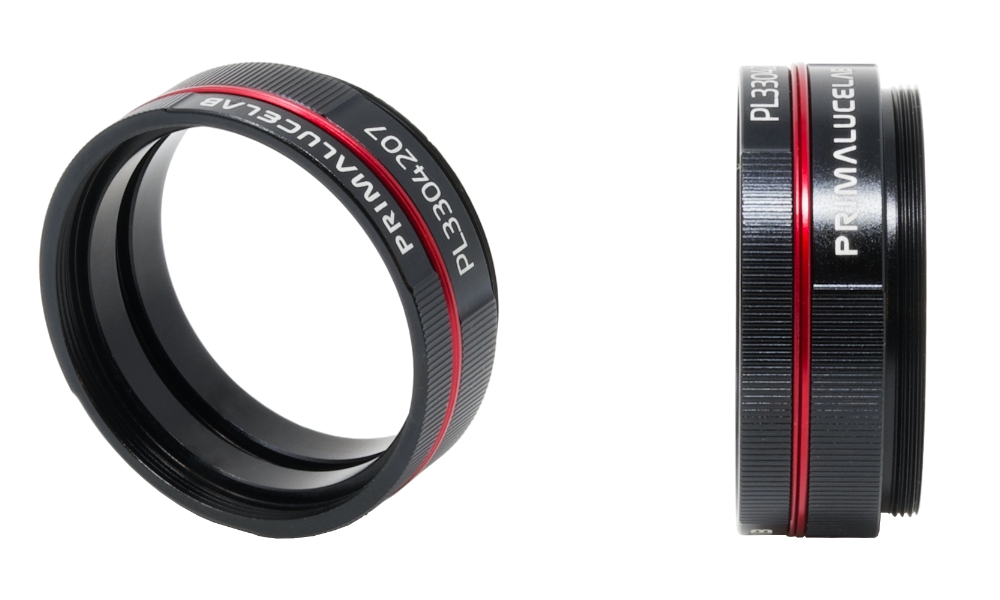 T2 extensions can be screwed together. In order to set the perfect thickness you need, you can also add the T2 1mm and 0.5mm spacers in between.
hanks to the availability of different extensions and spacers, you can purchase different combinations and adjust the thickness of your customized extension, in 0.5mm steps!
| | | |
| --- | --- | --- |
| Thickness (mm) | Combination | Codes |
| 5 | 5mm T2 extension | PL3304205 |
| 5,5 | 5mm T2 extension + T2 spacer 0,5mm | PL3304205 + PL3304200 |
| 6 | 5mm T2 extension + T2 spacer 1mm | PL3304205 + PL3304201 |
| 6,5 | 5mm T2 extension + T2 spacer 1mm + T2 spacer 0,5mm | PL3304205 + PL3304201 + PL3304200 |
| 7 | 7mm T2 extension | PL3304207 |
| 7,5 | 7mm T2 extension + T2 spacer 0,5mm | PL3304207 + PL3304200 |
| 8 | 7mm T2 extension + T2 spacer 1mm | PL3304207 + PL3304201 |
| 8,5 | 7mm T2 extension + T2 spacer 1mm + T2 spacer 0,5mm | PL3304207 + PL3304201 + PL3304200 |
| 9 | 9mm T2 extension | PL3304209 |
| 9,5 | 9mm T2 extension + T2 spacer 0,5mm | PL3304209 + PL3304200 |
| 10 | 5mm T2 extension + 5mm T2 extension | PL3304205 + PL3304205 |
| 10,5 | 5mm T2 extension + 5mm T2 extension + T2 spacer 0,5mm | PL3304205 + PL3304205 + PL3304200 |
| 11 | 5mm T2 extension + 5mm T2 extension + T2 spacer 1mm | PL3304205 + PL3304205 + PL3304201 |
| 11,5 | 5mm T2 extension + 5mm T2 extension + T2 spacer 1mm + T2 spacer 0,5mm | PL3304205 + PL3304205 + PL3304201 + PL3304200 |
| 12 | 5mm T2 extension + 7mm T2 extension | PL3304205 + PL3304207 |
| 12,5 | 5mm T2 extension + 7mm T2 extension + T2 spacer 0,5mm | PL3304205 + PL3304207 + PL3304200 |
| 13 | 5mm T2 extension + 7mm T2 extension + T2 spacer 1mm | PL3304205 + PL3304207 + PL3304201 |
| 13,5 | 5mm T2 extension + 7mm T2 extension + T2 spacer 1mm + T2 spacer 0,5mm | PL3304205 + PL3304207 + PL3304201 + PL3304200 |
| 14 | 7mm T2 extension + 7mm T2 extension | PL3304207 + PL3304207 |
| 14,5 | 7mm T2 extension + 7mm T2 extension + T2 spacer 0,5mm | PL3304205 + PL3304207 + PL3304200 |
| 15 | 7mm T2 extension + 7mm T2 extension + T2 spacer 1mm | PL3304207 + PL3304207 + PL3304201 |
| 15,5 | 7mm T2 extension + 7mm T2 extension + T2 spacer 1mm + T2 spacer 0,5mm | PL3304207 + PL3304207 + PL3304201 + PL3304200 |
| 16 | 7mm T2 extension + 9mm T2 extension | PL3304207 + PL3304209 |
| 16,5 | 7mm T2 extension + 9mm T2 extension + T2 spacer 0,5mm | PL3304207 + PL3304209 + PL3304200 |
| 17 | 7mm T2 extension + 9mm T2 extension + T2 spacer 1mm | PL3304207 + PL3304209 + PL3304201 |
| 17,5 | 7mm T2 extension + 9mm T2 extension + T2 spacer 1mm + T2 spacer 0,5mm | PL3304207 + PL3304209 + PL3304201 + PL3304200 |
| 18 | 9mm T2 extension + 9mm T2 extension | PL3304209 + PL3304209 |
| 18,5 | 9mm T2 extension + 9mm T2 extension + T2 spacer 0,5mm | PL3304209 + PL3304209 + PL3304200 |
| 19 | 9mm T2 extension + 9mm T2 extension + T2 spacer 1mm | PL3304209 + PL3304209 + PL3304201 |
| 19,5 | 9mm T2 extension + 9mm T2 extension + T2 spacer 1mm + T2 spacer 0,5mm | PL3304209 + PL3304209 + PL3304201 + PL3304200 |